Battle of Okinawa
The Battle of Okinawa which was codenamed Operation Iceberg, was fought on the Ryukyu Islands of Okinawa between the Allied forces against the Empire of Japan and was the largest amphibious assault in the Pacific theater of World War II. The long battle lasted from April 1, 1945 until June 21, 1945. After an extensive campaign of island hopping, the Allies were quickly approaching Japan, and they planned to use Okinawa, a large island which was only 340 miles away from mainland Japan as a base for air operations on the planned invasion of Japan's mainland which was coded Operation Downfall.
The Allied invasion force which was mostly made up of Americans, had four divisions of the US  10th Army, these were the  7th, 27th, 77th, and 96th accompanied by two Marine Divisions, the 1st and 6th fought on the island while the 2nd Marine Division remained as a reserve and was not used. The invasion was also supported by naval and tactical air forces.
The Allied forces mustered over 180,000 troops for the invasion, while on the other hand the Japanese managed to muster almost 120,000 troops for the defense of the island.
The battle has been referred to as the Typhoon of Steel in English and iron rain or steel wind in Japanese in reference to the brutality of the fighting, the fanaticism of the Kamikaze attacks from the Japanese defenders, and to the large numbers of Allied ships and armored vehicles that assaulted the island.
By the battle's conclusion, it had resulted in the largest number of casualties in the Pacific Theater of World War II. The Allies suffered more than 65,000 casualties of all kinds while Japan lost over 100,000 troops who were killed, captured or committed suicide.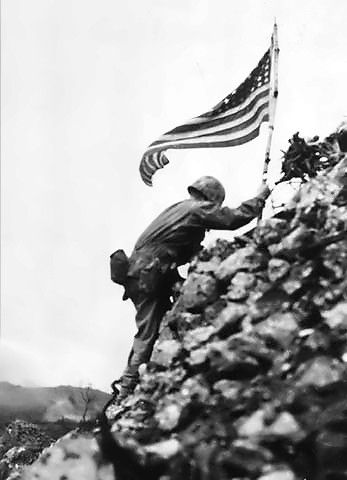 Lt. Col. Richard P. Ross, commander of 1st Battalion, 1st Marines braves sniper fire to place the division's colors on a parapet of Shuri Castle on May 30, 1945
Concurrently, thousands of local civilians were killed, wounded, or committed suicide mostly out of fear by Japanese propaganda that labeled the invaders as "ruthless savages" that would treat all civilians horribly. Only the atomic bomb droppings of Hiroshima and Nagasaki on early August caused Japan to surrender just weeks after the end of the fighting at Okinawa thus preventing Operation Downfall from being implemented.