German-American Internments during both World Wars
World War I (1917-1922)
During World War I, before the United States became active in the war against Germany in 1917, there were many German-born people enjoying life in the US, German ships in US ports and even a few German naval ships and crews seeking safe US harbors, escaping from the Japanese and British on the sea. This all changed with United States' involvement into the war.
The Day before the United States declared war on Germany April 17, 1917, 54 German boats and crews were free on US lands, and many were given 24 hours advance warnings to leave or risk detention. Immediately after declaration of war, 1,800 German merchant sailors and 2,000 German military sailors were interned to a holding camp in Hot Springs, CA.  6,300 more Germans were arrested and questioned, with another 2,048 incarcerated at either Ft. Douglas in Utah or Ft. Oglethorpe in Georgia.
Prior to the US involvement, the German ship Cormoran with all its crew chose to be detained in US territory of Guam rather than face the Japanese at sea.  The same was true of the German ship Geier in Honolulu, Hawaii. An "immediate surrender" was ordered as the US declared war on Germany, and the Captain of the Cormoran blew up his own ship, losing 6 lives, before being taken with his crew as prisoners of war.
Two German shps and their crews, the Prinz Eitel Friedrich and KronPriz Wilhelm spent several years in coastal US waters, even being allowed land to build  a "German Village" first in Norfolk, Virginia's Navy yard, and then moved to Philadelphia, Pennsylvania's League Island behind barbed war, before becoming POWs. This village included painted houses, gardens, fenced yards with rescued animals, a church, police station and a café. Before US declared war against Germany, in the earlier years of World War I, the Germans solicited for the German Red Cross from American soil.  When the US and Germany became enemies, 9 escaped and the remaining 750 were transferred to detention camps.
The internments were under the control of the Enemy Alien Registration Act of the Department of Justice, in Woodrow Wilson's presidential term and headed by a young 22 year old, J. Edgar Hoover. All German born males in the US over the age of 14 were registered and carried cards.  Females received the same treatment in 1918.
Some well-known Germans who were detained during World War I were geneticist Richard Goldsmith, and two symphony orchestra directors, Karl Muck of the Boston Symphony, and Ernst Kunwald of the Cincinnati symphony.  Another 29 symphony members were incarcerated and it was reported at one point that 100 musicians practiced and gave concerts at the detainment camps.
These detainees were all released between the years of 1919 and 1920 following the war's end.
World War II (1939-1945)
World War II and war with Germany again in 1941 found quite a different scenario of German population in the United States.  By this time there were 1,237,000 Germans living in the US; when detainment of the Japanese was deployed, the order was for the entire population, but with the German population so much higher, a different method needed to be utilized.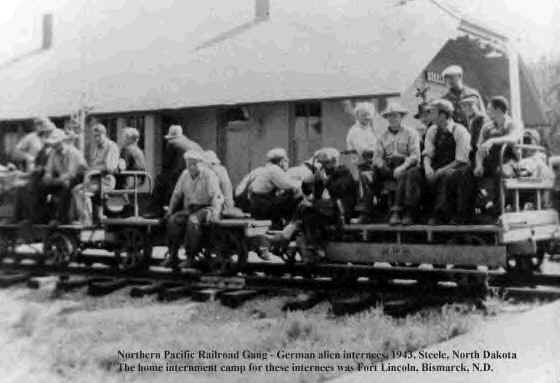 Under the Alien Enemies Act of 1798, 11,000 Germans and German-Americans, both visitors and immigrants were sent to internment camps.  This was a mere fraction compared to the 110,000 Japanese, and about 36% of the total interred.  4,500 Germans were brought to the United States from Latin American countries, and the FBI issued a list of 15 names of highly sought subversives believed to be in Latin America.  Monetary rewards were issued for capture.
In total, 11, 507 Germans were held in the US at seven different internment camps in Texas, Florida, Oklahoma, North Dakota and Tennessee.  After the war ended in 1945, they were released during the years of 1945-1948.  As of this day, even with the German American Internee Coalition publicizing the figures in 2005, and calling for a review of civil rights violations, no public apology has ever been issued.