The Winter War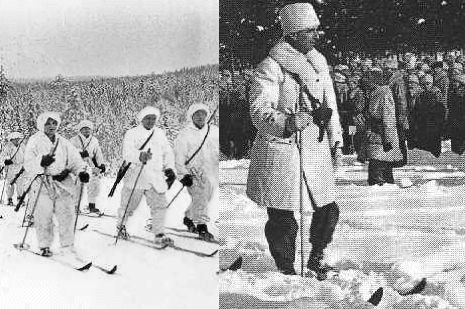 The Winter War was a conflict fought between Finland against the Soviet Union, it began on November 20, 1939 and ended on March 13, 1940 during the Second World War.  It began with the Soviet offensive on November of 1939 just two months after the Soviet invasion of Eastern Poland, and concluded on March of 1940 with the Moscow Peace Treaty. The League of Nations condemned the attack as illegal and consequently expelled the Soviet Union from the organization on December 1939.
As the war began, the Soviet Union's Red Army had more than three times as many soldiers as Finland, added to this an overwhelming amount of aircraft, armored vehicles, and tanks. The Soviet Union assembled over 400,000 troops, at least 2,500 tanks, and almost 4,000 aircraft for the operation, Finland on the other hand managed to assemble over 300,000 troops, around 30 tanks, and a about 100 aircraft.
However, the Soviet Army had been decimated by it's leader Joseph Stalin who had purged it of tens of thousands of officers, also known as the Great Purge before the war in 1937. In doing so he reduced his forces efficiency and combined with the high commitment and morale in Finland's army, Finland was able to oppose the invasion for far longer than Stalin had expected.
Finally after several months of Finnish fierce fighting, the hostilities ceased in March 1940. Finland was forced to abdicate around 10% of its pre-war territory along with a substantial amount of its economic assets to the Soviet Union. However, the Soviet Union had heavy losses on the front, with over 300,000 casualties. Finland on the other hand had just around 70,000 casualties.
By the conclusion of the war, the Soviet Union did not accomplish the main objective of the complete conquest of Finland. Nevertheless, it did gain substantial territory in Northern Finland.
Despite the losses Finland preserved her sovereignty and would participate in the later German invasion of the Soviet Union in June 1941 known as the Continuation War to regain her lost territory.